Despite using double cream, this dish is relatively light so is perfect as a starter, to eat cold as a lunchtime snack or to serve in a bigger portion for a dinner. The red onion, orange squash and green pasta make this a very pretty dish indeed.
What you'll need to serve 4-6:
3 small red onions, finely chopped
3 large cloves of garlic, finely chopped
4-5 table spoons of chopped fresh sage
oil for frying
300g/9.5oz butternut squash, peeled, seeds removed and cubed
150ml white wine
300ml double cream
500g Verdi (spinach) Tagliatelle
salt and freshly ground black pepper
150g chopped pancetta (optional)
Preparing the Squash: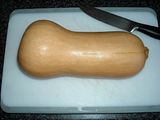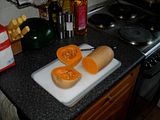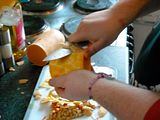 * Make sure the outer skin is firm.
* Separate the squash in two - split the bulb from the thinner part.
* Cut the bulb in half and scoop out the innards with a spoon.
* Peel the skin off and then cut in to cubes: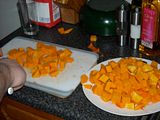 Take the cubed butternut squash and place on a baking tray, cover with some oil and some salt to help roast the edges and pop in a pre-heated oven at about 200c/400f (gas mark 6) for about ten minutes.
Boil a pan of water with some salt and cook the pasta as the package dictates
.
Steamy Steamy = hot hot hot!
Take another pan and heat it to a medium heat and add the oil, garlic and onion, cook for about 3 minutes until browned.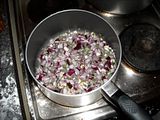 Check on the squash cubes - turn them and mix them up a bit to make sure all of the cubes are cooked through. Take out about 100g of the squash and mash.
In to a third pan add the chopped pancetta to go brown and crisp - there's no need to add oil as there's plenty of fat in the bacon.
Back to the simmering pan with the sage, turn up the heat and add the wine and mashed squash - make sure it all mixes in together.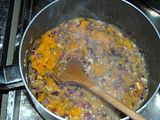 Bring it to the boil and add in the double cream and mix well.
Reduce to a simmer until the pasta is cooked. Add salt and pepper to taste.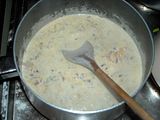 When done, separate out the Tagliatelle and toss on some of the roasted Butternut Squash. Pour over the sauce and serve with the Pancetta in a separate bowl.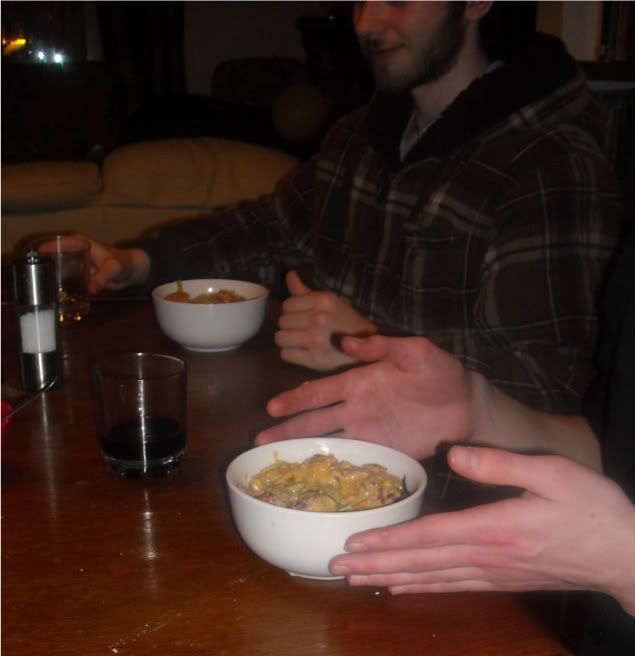 Variation:
You could use some curry spices like cumin, tumeric, paprika or currry leaves to give more warmth to the squash flavour prior to roasting. Just pop the cubed uncooked squash in a bowl with some oil and spice/s and mix well prior to roasting.